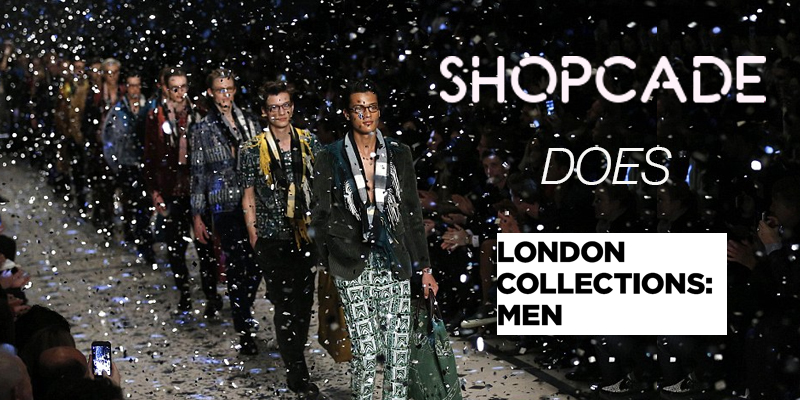 It's the first day in recovery of the extravaganza that was London Collections: Men, the four day whirlwind of fashion, press, buyers, parties, designers, models, and booze has gone down in the books of fashion history for at least another season! With our bevy of bloggers in hand, we came, saw and conquered from the pop-up, presentations, shows and parties.
The army of straight-laced fashionisto's, the boys all oozing of dash and flair in their own special ways accompanied us and lended their eyes for the day. "This is the first time I've done the London Collections: Men, it's been great to be a part of and seeing all of the city's industry in one place"- Max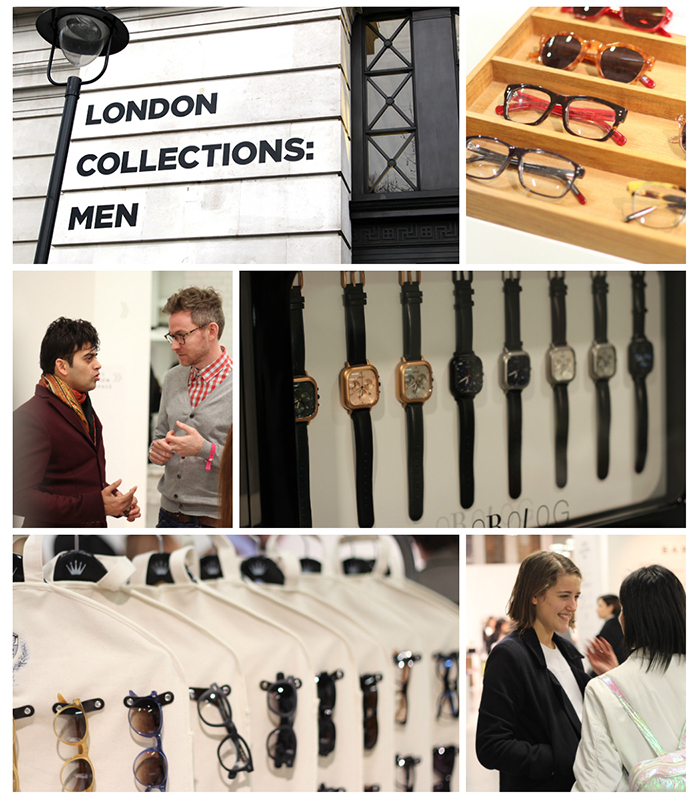 First stop is Victoria House, the pop up show room housing all of the ready-to-wear AW'15 collections. With Warsteiner and Mojito's on tap, we were set to explore and enjoy all the wonders of the sharp and slick gentlemen's wear on show for us. The showroom giving signs of a more present and brighter coming season; variations on winter blues with alternative texture patterns with checks and tweeds with the accessories boasting neat colour mixes of mustard, indigo and greys.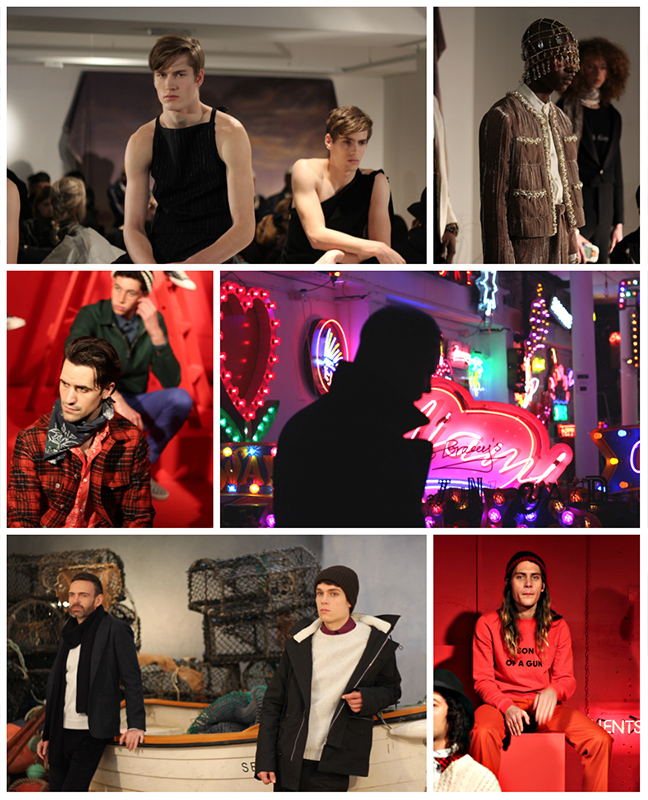 Rathbone Place played host to Fashion East's Mens Presentations with a debut from Wales Bonner (top right) with Hentsch man's "Peep Show" in Sex Alley of Soho (Walkers Court). Great atmospheric presentation's all round with a mix of ready-to-wear collections standing along side avant-garde. "One thing that seems to be prevalent is the theme of androgyny in these collections. Some make use overtly feminine features such as crystals and rouching, with others keeping quite masculine but choosing to model the styles on more softer faced models."- Geraint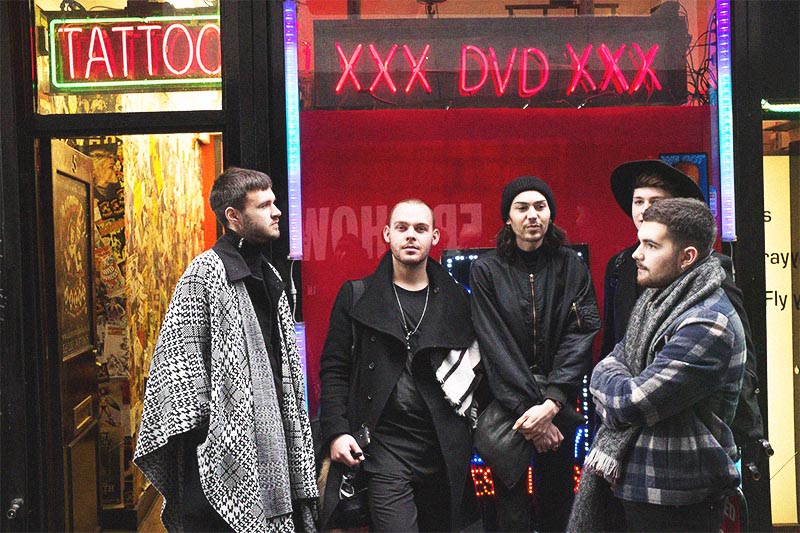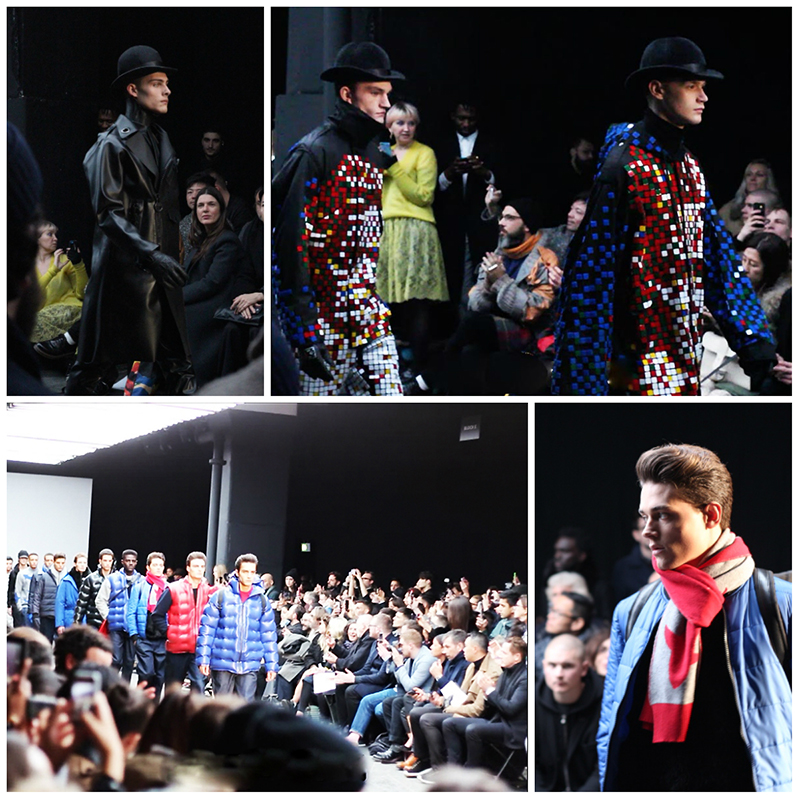 The highlights of the weekend being the KTZ and Christopher Raeburn catwalk collections of AW'15, both electrifying the Autumn Winter season with poppy royal blues and reds, surfaces differing from sillhouette animal prints to rubik's cube tiling. Big in shape with Christopher Raeburn's pin-dent uber- puffer jackets and low slung denim.
KTZ hits us with long length fabrics in new dramatic shapes, ovesized, overhung and over-stated! "It's nice to see the way different trends and patterns of other design industries are making it's way onto the catwalks, it makes scene a lot more interesting and give's a lot to be excited for!"- Gerard. New season forecast: all shades of blue, poppy red, mustard, leather, loose long structures, high collars, heavy layering, and androgynous styles.