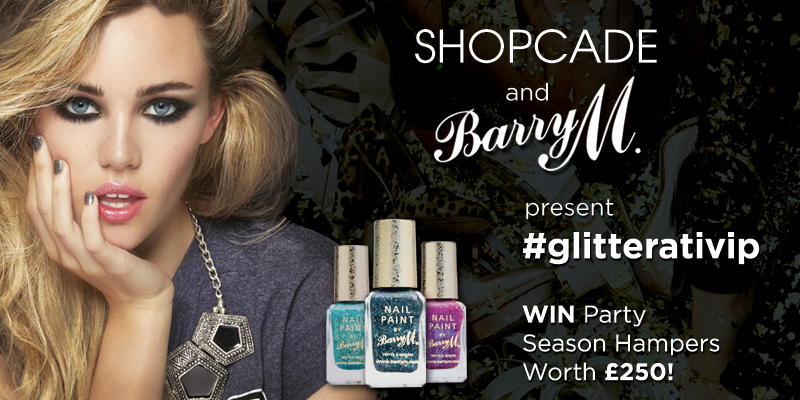 Whether you're a Catwalk Queen or Rockstar Glitterati gal, there's no doubt you'll love our Shopcade x Barry M #GlitteratiVIP competition, where you could win Party Season Hampers worth up to £250!
For festive and party beauty treats including Barry M's new range of fabulous nail colours – The Glitterati – all you have to do is download the Shopcade app, snap a selfie of you in something glittery this Christmas and upload your look via the app using the hashtag #glitterativip and that's it!
You're now in with a chance to win the Party Season Beauty Hamper you've always dreamed of. There's also a chance for three lucky runner-ups to get their hands on a £50 beauty hamper full of party treats as well. The cooler your pic, the higher your chances of winning! So, what are you waiting for? Get practicing your pose now!
For a chance to win a Barry M Glitterati nail polish set every day, simply share your glitter selfie on your socialsphere and tag @shopcade and @barrymcosmetics with the hashtag #glitterativip! The competition ends on Wednesday 17th December, so don't hold back, get snapping those pics now.
With the Glitterati VIP nail polish line packed with shimmer and sparkle, your party looks will undoubtedly be the talk of the night! With six shades, these suitably dubbed nail colours – Starlet, Socialite, Fashion Icon, Catwalk Queen, VIP and Rockstar – are just what you need to mix and match with each new party look.
Keep up to date with the latest entries on our promo page and don't forget to take our festive quiz too- Which Glitterati Girl Are You? to share your results with your girlfriends this Christmas. Good Luck!