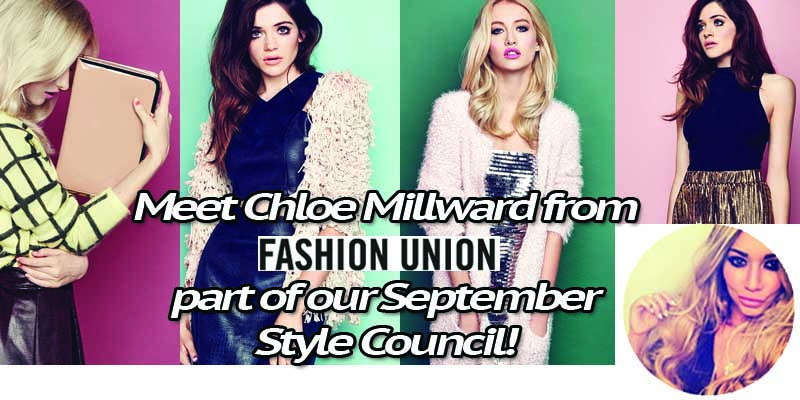 Chloe Millward is Fashion Union's fashion buyer so who better to be part of the Style Council, scouring the Shopcade app for the most stylish looks! Find out below what floats her style boat and what she can't live without below!!
Do you look for your trends straight from the catwalk or elsewhere?
I look for trends via WGSN & catwalks firstly, the season prior for work but personally – blogs and Instagram are a great, easy platform to follow bloggers, stylists & designers all around the world on.
What trends, if any are you loving this season?
I'm feeling all 90's this season so I'm loving the 'high school dropout' trend by day with my jumpsuits & oversize bombers and shoe boots, it's such an easy comfy wear yet you still look sleek.
I love the 'take me to the church trend' by night because I like the sleek simplistic looks. I'm obsessed with bandaging & straps, lace, lots of black but with strong hair and dramatic smokey gothic make-up.
What's on your shopping list this season?
This season a sleek coat is on my wish list – I fancy something tailored this year easy to take from day time at work to after work drinks. There's some gorgeous co-ordinate sets and chunky cardi's on my wish list to add to my wardrobe from Fashion Union to!
What do you think is the thing that makes people's style really stand out?
I think it's the uniqueness of how people put their outfits together not necessarily the individual items. Two people could wear the same top in a completely different way. I think style is the overall look – not just the clothing, it's the hair and make-up too.
Who are your fave designers?
This season I'm loving the strong, powerful look of Balmain and all their coloured furs. I love Givenchy accessories for their mix of sophisticated and fun prints. I love Tom Ford's and Zadig & Voltaire's A/W collections for their oversize super chunky shaggy jackets.
Whose style do you admire?
I admire Anna Dello Russo for her crazy eccentric style- she's completely unscared of mixing lavish luxury with fun pieces and even at her age has fun with fashion and looks fab! For a more relatable look I will always love the Olsen twins; I love the mix of sleek shapes with oversize almost drowning pieces, designer, high street and vintage items – these girls are just effortless.
Have you ever had a fashion faux pas?
Probably when my mum used to dress me in completely outrageous matching printed sets when I was little – but then again co-ords are back in! All trends come back around so they're all funny to look back on, I always find myself laughing at my mum's crazy style years ago then find myself repeating the same look now!
What's your favourite piece in your wardrobe ATM?
At the moment my favourite item is probably my silk look jumpsuit from Fashion Union; it's the quickest and comfiest thing to chuck on in the morning with my fur look booties!
What item could you not live without? Fashion/Beauty item…
I couldn't live without my Moroccan oil and my tangle teezer… I swear by them!
What's on your Spotify playlist right now?
I have a massive mix taste in music. One morning I'll try taking myself back to summer with 'Annie Mac' & 'Hot Since 82' and the next morning I'll have the 'Weeknd' playing. It all depends how tired I am, or where I'm traveling to that day!
What's next for Fashion Union?
We will be shooting the next TV advert very soon, which is exciting so you will be seeing much more of us. We have lots of amazing new styles in production and plan to widen the party range which I can't wait for!
Thanks Chloe! 
It's the final few hours to upload your look for the StyleBattle on Shopcade's app! Hashtag #Stylebattle to win a fashion magazine photoshoot with IDGAF magazine!