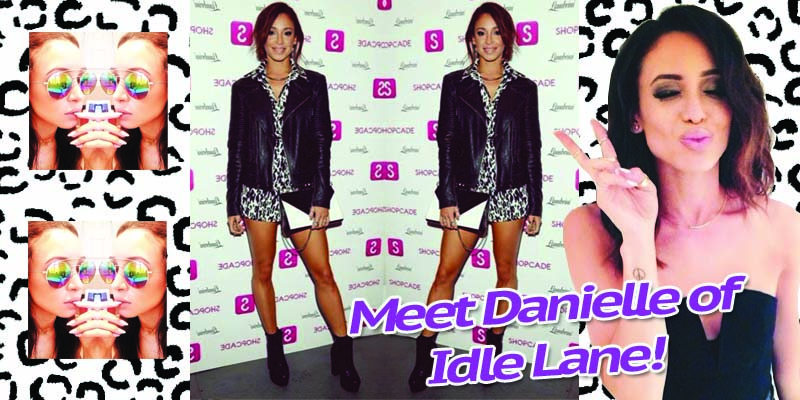 Dancer, model and blogger Danielle Peazer of IdleLane.com is our September Style Blogger Council member ready to get judging your style in the fashionista style stakes this month! Find out about what trends she'll be rocking this season, which may pop-megastar is following her on Twitter and what she thinks makes people stand out from the crowd, to see if you can catch her eye on the Shopcade app!
What's on your shopping list this season?
Moving into A/W I'm on the look out for cosy knitwear, it's so vital when the weather gets colder!
What do you think is the thing that makes people's style really stand out?
I think people's style stands out when they're truly comfortable in what they're wearing and are happy in their outfit. It's an added confidence that comes naturally.
What trends, if any are you loving this season?
I've loved the amount of lace overlays that have been on trend. I've got a few pieces and they always catch my eye when I'm out shopping.
Who are your fave designers?
I love Reformation and Sandro but for high end designers as well as Saint Laurent, Givenchy and Burberry for their leather jackets!
Best high street brands?
I'm a massive fan of Zara and Topshop. I also love Monki and love to shop online at Missguided and Asos.
Whose style do you admire?
I love Ashley Madekwe's style and Naya Riviera's sharp look that she always has. I love Vanessa Hudgens and wish I could pull off the boho look as well as she does!
Have you ever had a fashion faux pas?
I've had a few yeah! I used to own this faux fur leopard print coat that didn't suit me at all but I tried to make it work – I looked terrible!
What's your favourite piece in your wardrobe atm?
I recently bought a linen mac from Zara. It's calf length and I loved it so much in beige that I bought the exact same one in black!
What item could you not live without? Fashion/Beauty item…
I couldn't live without my Mac lip conditioner – it's better than Vaseline but not as sticky as lip gloss. And it comes in a few different shades too.
What's on your Spotify playlist right now?
I've just downloaded Sam Smith's album and can't get enough of it. Every song on there is amazing.
Most famous person on your twitter/Instagram/in your phone book..
I'm not sure about on Instagram, but Justin Bieber follows me on Twitter which is random but pretty cool!
What inspires you?
My biggest inspiration is probably London and all the different cultures and the variety there is in just one city. Having grown up here I'm constantly admiring how it's changing and along with that so are the trends and fashion. I love that everyone is so unique; the diversity is crazy and I find that so inspiring.