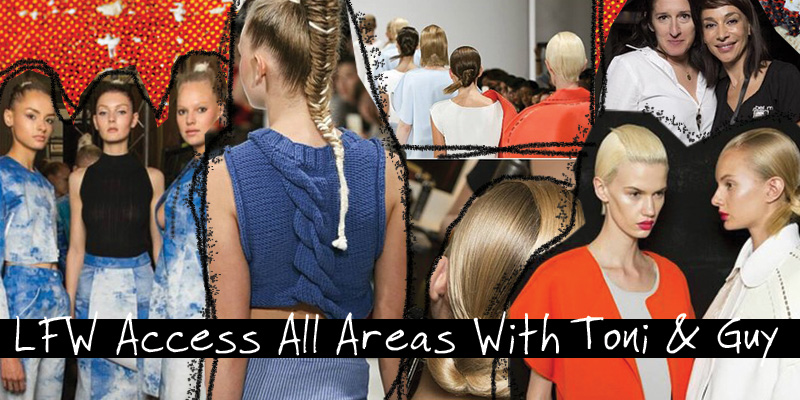 I love London Fashion Week. There I said it. I love the chaos, I love the pretence, I love that my Instagram feed gets flooded with crazy outfits and I love the way London becomes the fashion focal point of the world for five whole days.
This season I was invited backstage with Toni & Guy, which was a new experience for me. Normally I'm used to watching shows on live stream, or standing squeezed between many other #FEditors at an oversubscribed show.
So the idea of seeing how it all comes together before the flashbulbs go off was really pretty appealing. My journey began on Friday night backstage at PPQ. The location? A private members club so hidden I walked past it twice before I clicked the people with clipboards and ear pieces…. epic fail, I'll admit.
Heading underground I was quickly introduced to Sacha Mascolo-Tarbuck, the Global Creative Director for Toni & Guy. Wonderfully down to earth she explained her concept for the show- something intriguingly called 'tiara hair' and the model patiently bent her head for me to take a quick snap, or twenty, as the case turned out!
I really liked the look- painted glitter crowns on the parting, teamed with poker straight unfussy locks looked sensational. I saw the look on three different models, and all wore it in a different way, despite the style being identical; I guess that's what comes from years of experience and 10 years of sponsoring London Fashion Week!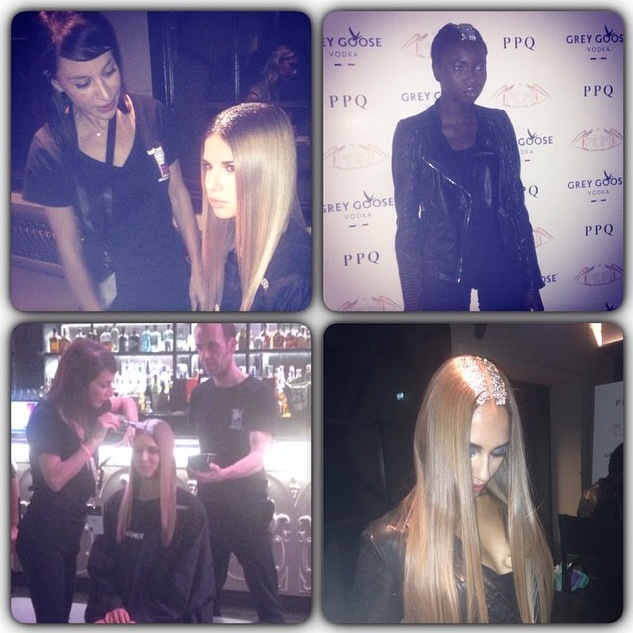 Next up was Apu Jan and Xiao Li at Fashion Scout on Sunday. Walking into possibly the hottest room on earth, it was clear this was a different premise altogether than PPQ. Models being dressed in the corner, a whole team of press taking close-ups of the hair and make-up; it was just more intimate and a great way to really see the stylists at work.
Apu Jan featured wonderfully intricate fishtail braids, that were so incredibly chic with a twist; cloth woven into the plait- it was definitely one of my favourite looks of LFW.
For the Xiao Li show, Efi Davies in charge of heading the backstage team, opted for a sleek and sophisticated style, which combined the detail of city life and the element of being on holiday together seamlessly.
Finally, I rounded up my backstage tour with GILES on Monday afternoon located in the Dairy Art Centre. Before Sasha even brought out her model to the waiting press, I was already massively intrigued about the show ahead thanks to the backstage passes… they had characters from, wait for it, The Jungle Book on them! A teaser for the show ahead? Most definitely.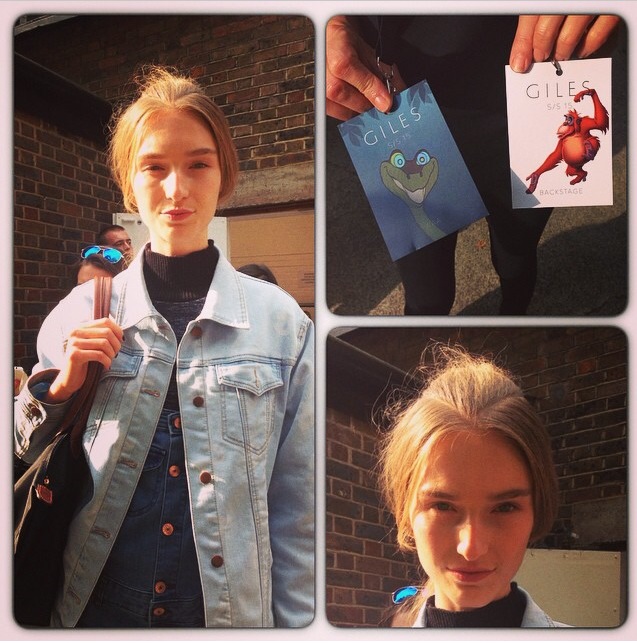 Apologizing for keeping us waiting, Sasha then began to describe the designer influences for the show and how the hair was to juxtapose this. The concept was 'Modern Victorian' which involved a sleek ponytail with the front section 'teased' into a slightly raised position at the crown. It was simple, yet appropriate for GILES' wild jungle collection.
And that is that for another season! Big thanks to Toni & Guy for giving us a sneak preview of what goes on behind the scenes. Here's to AW15 in February!